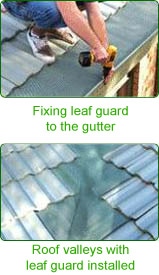 Polyethylene leaf guard
Australia's no. 1 choice
HD5000 is a technological breakthrough for many reasons. Made of the same material as the bumper on your car (high-density polymer) it is designed to withstand whatever nature throws its way.
Why is HD5000 Australia's no.1 choice?
Made up of high-density, UV stabilised polyethylene Exposed to harsh Australian weather conditions it has a life expectancy of 20-25 years.
Available in many colours to match your roof and gutters We have hundreds of different colour combinations for a perfect match for your home.
Fits almost every roof type Being at the forefront of our industry we offer a system that suits 99% of Australian households.
Best guarantee in the industry We have a full 10 year replacement guarantee meaning if any part of your gutter protection fails you will get the entire system replaced.